Press, Publications & Praise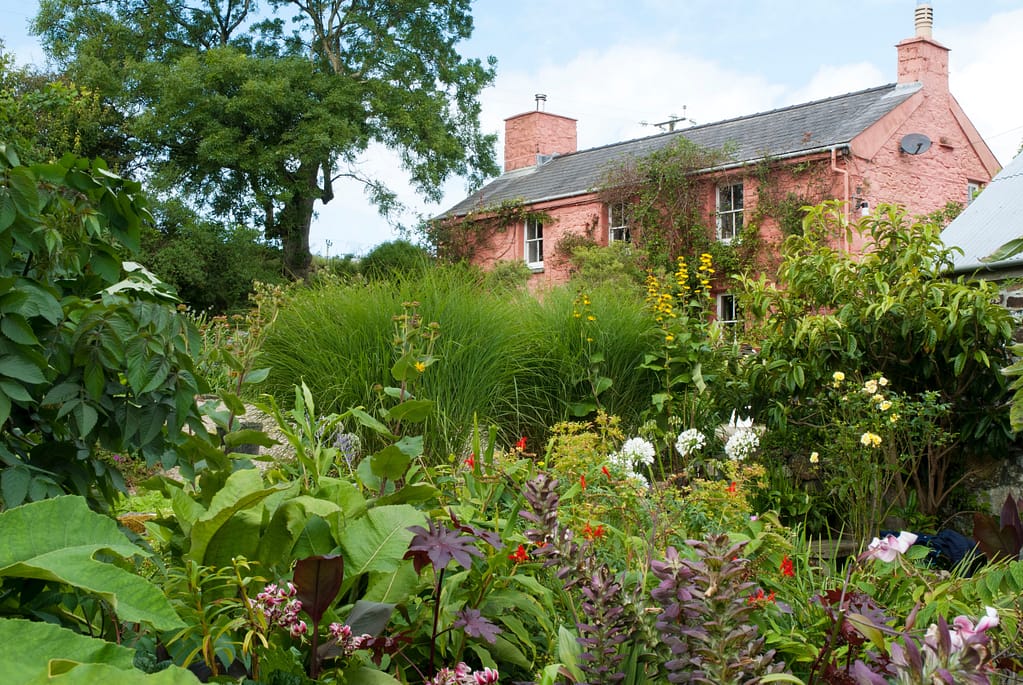 Countryfile June 2018
Eden in the hills
"Few gardens talk to the landscape quite like Dyffryn – its whispering grasses and singing flowers are an invitation into the hills," says Julie Brominicks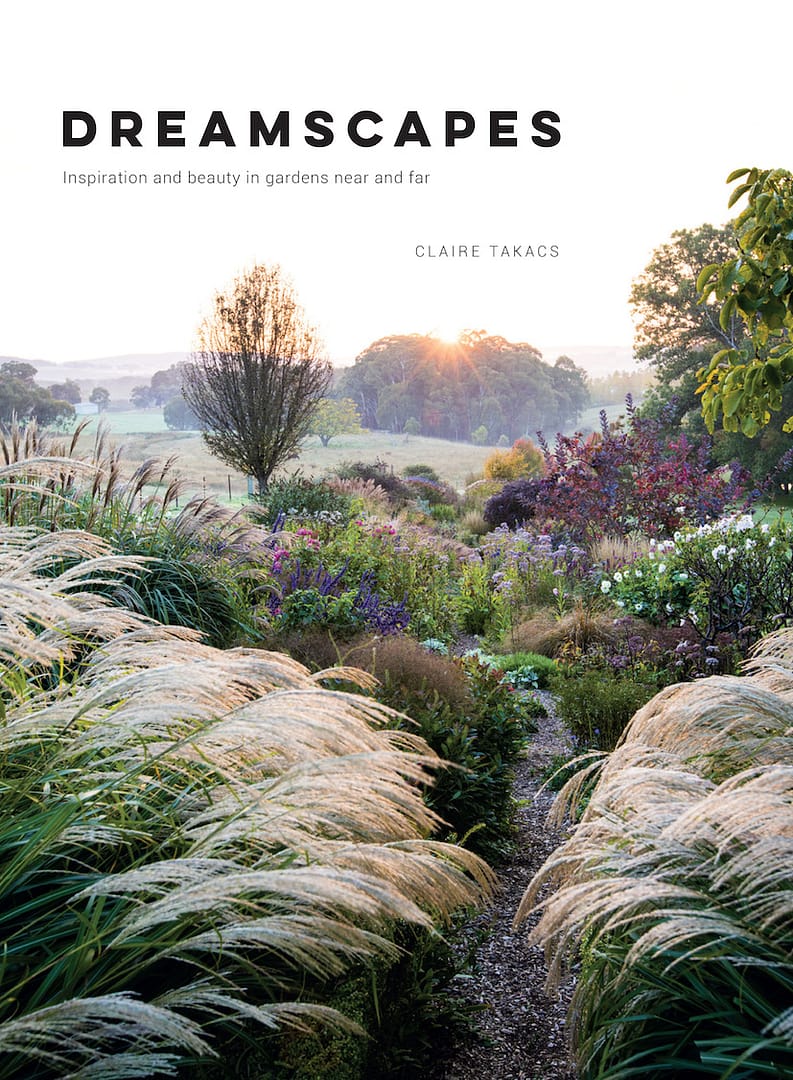 Dreamscapes
Photographed by Claire Takacs
Published by Hardie Grant Books 2017
Of Dyffryn Fernant she says:
"There is so much soul and energy there- you can feel it deeply…This is a skilfully created garden that comes straight from the heart, is connected to it's landscape and is pure joy to visit."
Claire is an Australian photographer whose passion is photographing gardens and landscapes. She divides her time between Australia, Europe and the USA. Beauty and nature are her inspiration. Claire's work features regularly in magazines that include Gardens Illustrated and Garden Design. She has contributed to several books, including the Gardeners Garden. She won the inaugural International Garden Photographer of The Year Award in 2008 and every year continues to be recognised for her work.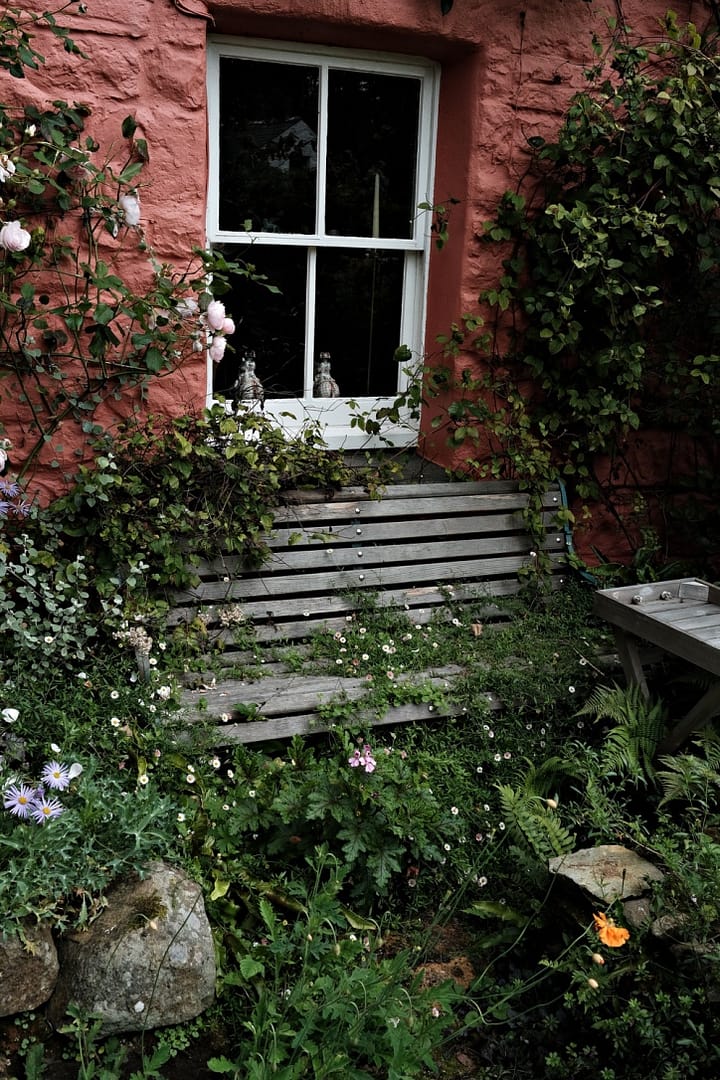 'The Times' Newspaper 20 great gardens
The best places to visit this summer
Chosen by Times gardens correspondent Stephen Anderton
1. Dyffryn Fernant, Fishguard Pembrokeshire.
"Beautifully conceived small gardens brimming with rich, contemporary planting surround a glowing raspberry-fool coloured house, while a bog garden subtly gives way to a wetland-valley floor. The best domestic garden in Wales."
Stephen Anderton, The Times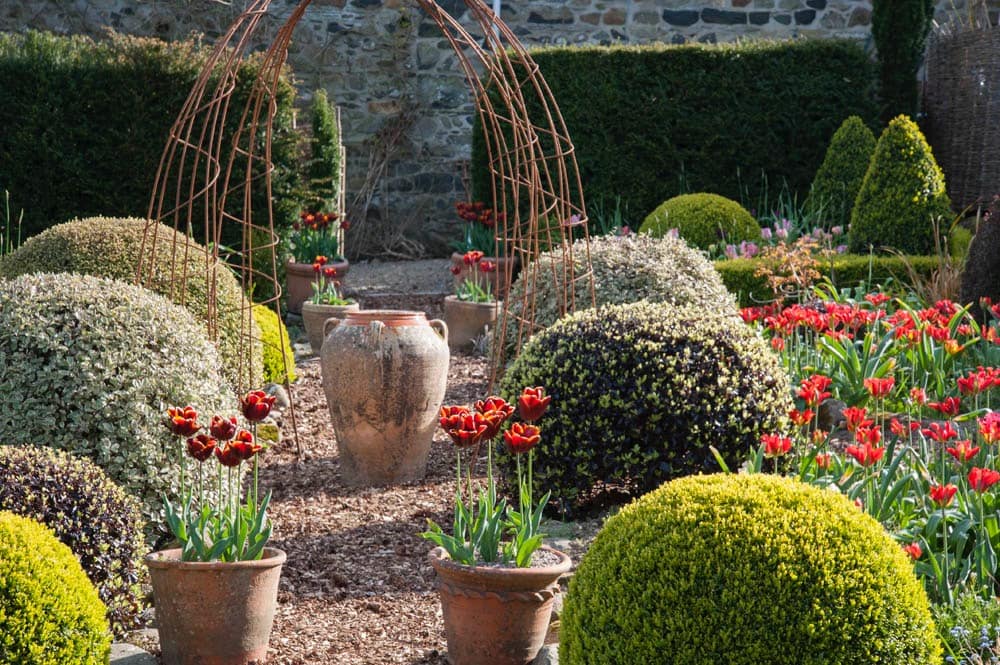 Country Homes & Interiors
May 2017
Blending ancient and Modern – feature and photography Carole Drake
"What we love most about this garden….. The way it merges into it's landscape of rock, moor and marsh"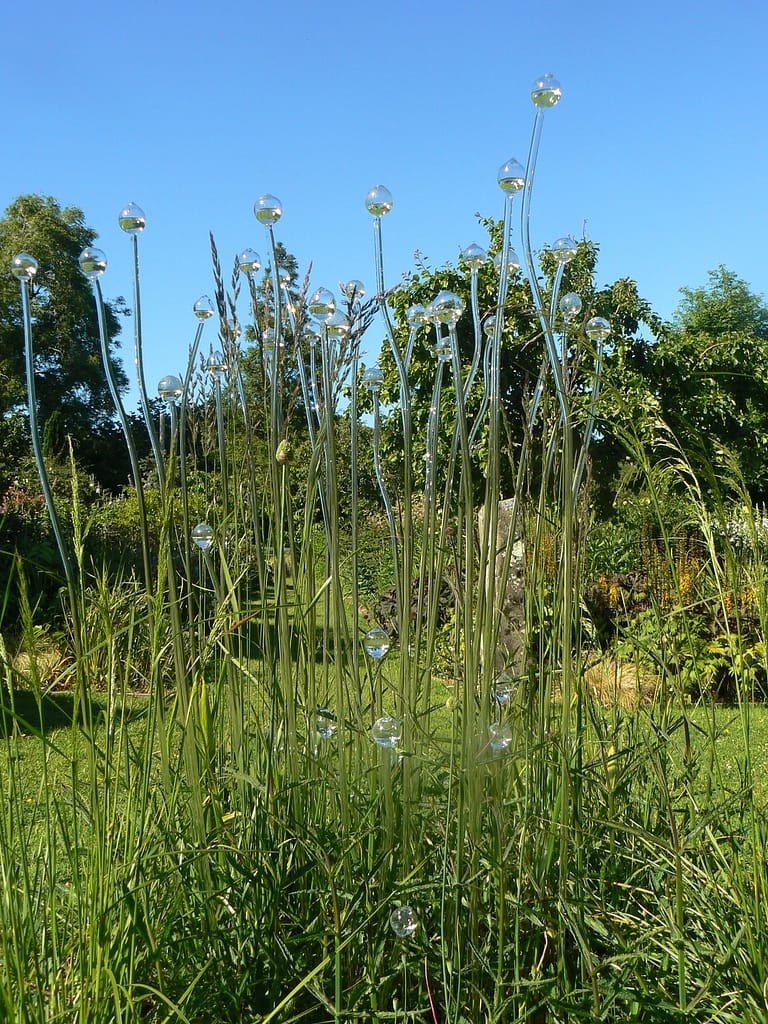 Pembrokeshire Life
May 2017
Plant Mythology inspires artists Melanie Tomlinson, Buddeg Wyn Humphreys and Keiko Mukaide
Keiko's glass sculptures continue to be exhibited in the garden.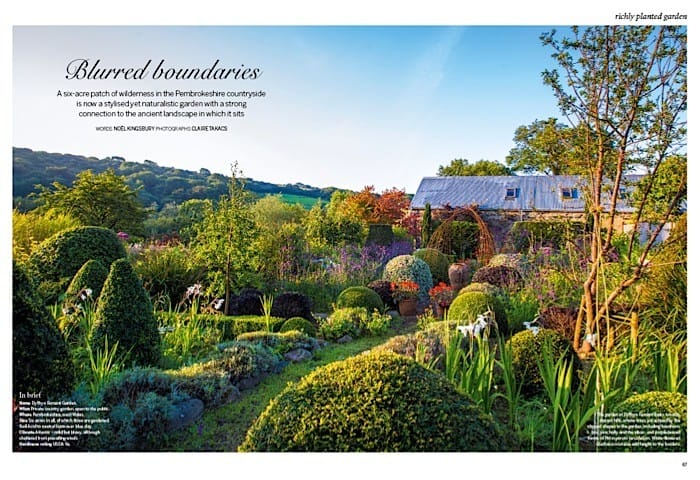 Gardens Illustrated, September 2016

Noel Kingsbury – "Blurred Boundaries" in Gardens Illustrated, September 2016 (with photos by Claire Takacs)
Dyffryn Fernant – the essence of sense of place
Plant and garden expert Noel Kingsbury visits Dyffryn Fernant, a garden set on the edge of Pembrokeshire's Presell Hills, and considers the essence of creating a true sense of place.
'Sense of place' is one of those often used but rather abused terms, often bandied around but rarely defined. For the garden at Dyffryn Fernant it is, however, central. Christina Shand, the garden's creator talks about it as a central concept, and it is, for a change, very clear what she means. Stand on the mount in what she calls the Magic Garden and you get a view over the whole and on over the surrounding landscape to the rocky hillock of Garn Fawr read more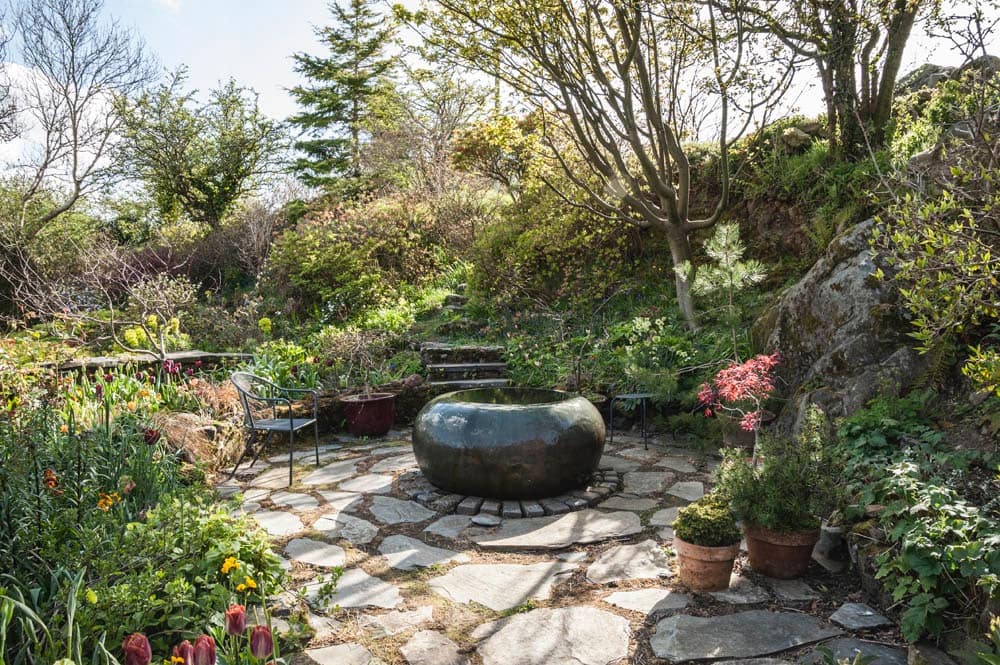 Living at Home September 2016
Photography by Carole Drake & text by Victoria Wegner  
'A Warm Welcome' was the title in this German magazine feature.
Wild Garden Weekends April 2015
"One of the most enchanting wild gardens I have ever seen. Dyffryn Fernant is…truly beautiful and reflect the powerful and rugged landscape it inhabits."
Tania Pascoe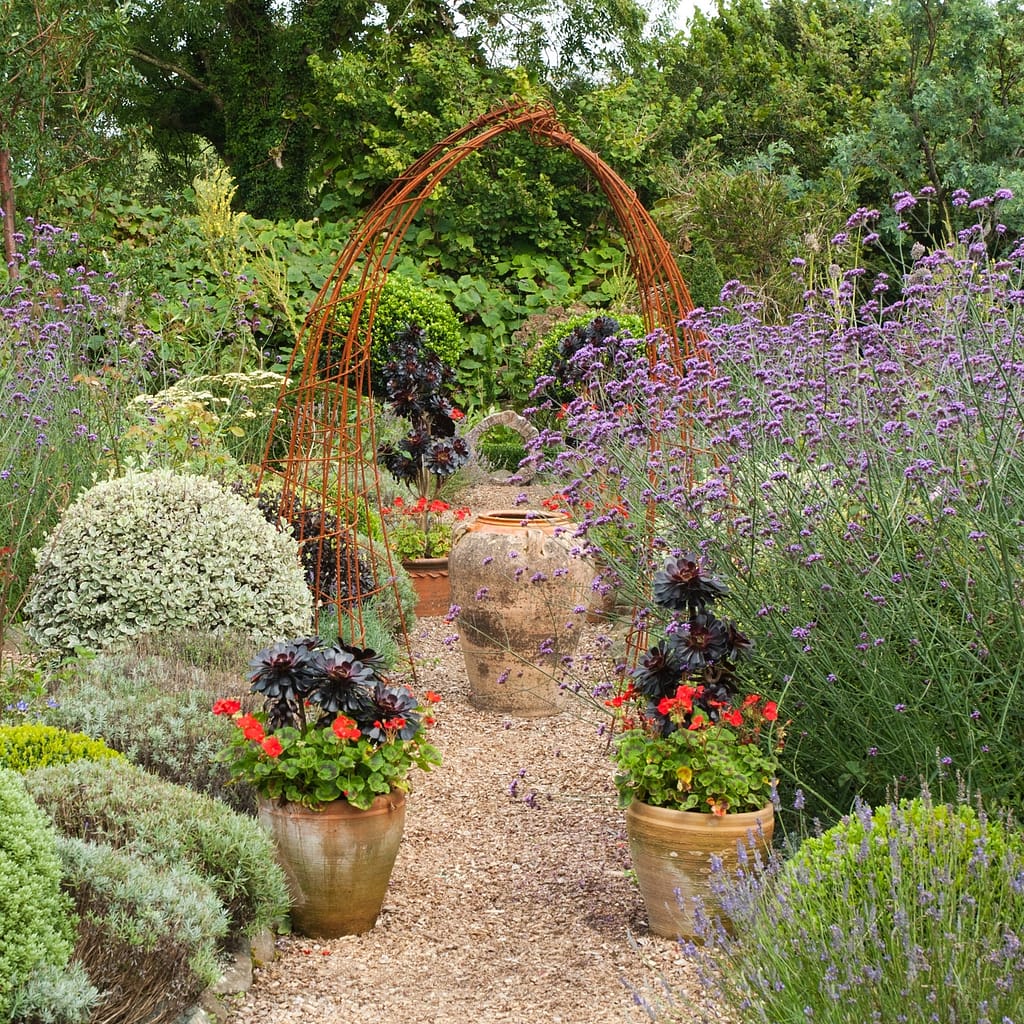 Welsh Country
Sept/Oct 2016 & July/Aug 2012
"Where massed Verbena bonariensis makes a haze of lilac over tall skeletal stems with vibrant, splashes of orangemarigold underneath, a wonderful combination." 
Richard Cain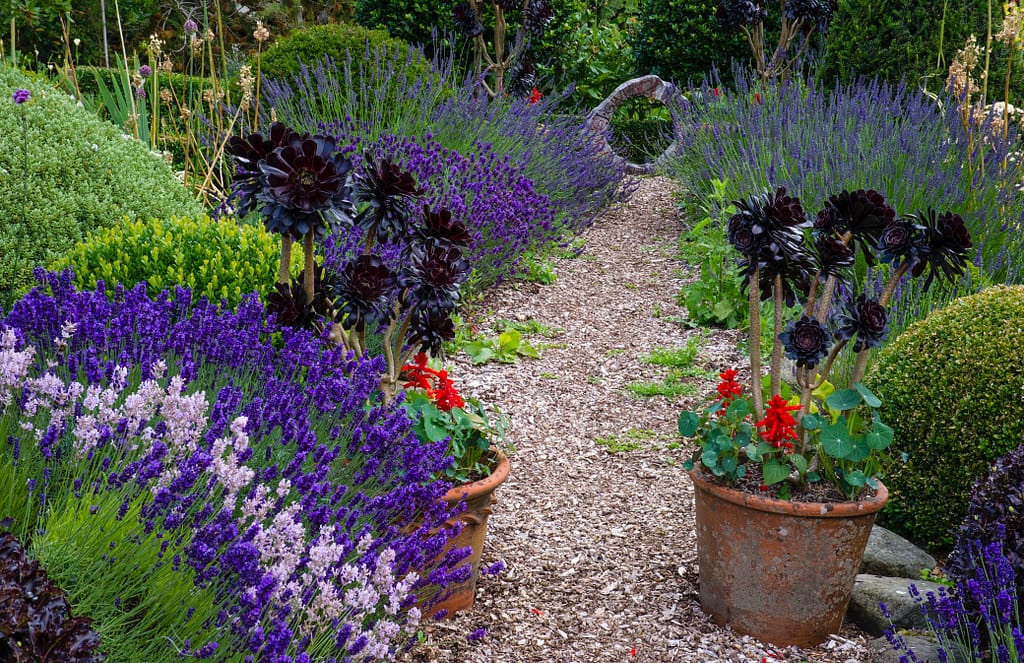 Professional Horticulture + Landscape Design
Issue 1 and Issue 2 2016
"Once the near-derelict house had been made habitable, work started in 1996 to deal with the wild growth of bramble and blackthorn which surrounded it."
Viewed from above the Rickyard garden is a lush mix of clipped shrubs including yew, box, hebes and pittosporum mixed with Verbena bonariensis, Aeonium 'Zwartkop', scarlet pelargoniums and marigolds. Dyffryn Fernant, Fishguard, Pembrokeshire, Wales, UK
'Colour and Contrast' September 2014, Country Living Magazine
'Dig In' September 2014, Gardens Illustrated
Exhibition held in the library and curated by Flow gallery London.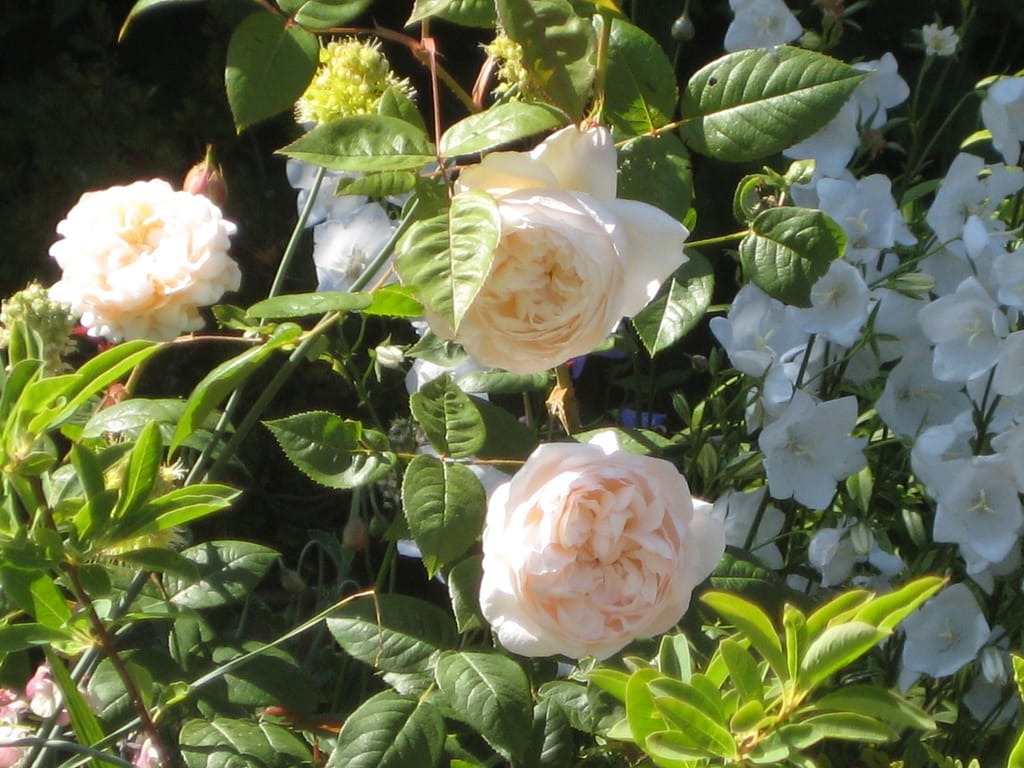 Cambria Magazine, June 2014
'Dyffryn Fernant: A garden without edges'
"Christina has bought a great deal of energy to this garden, and it has risen rapidly among the rankings of Welsh gardens."
Caroline Palmer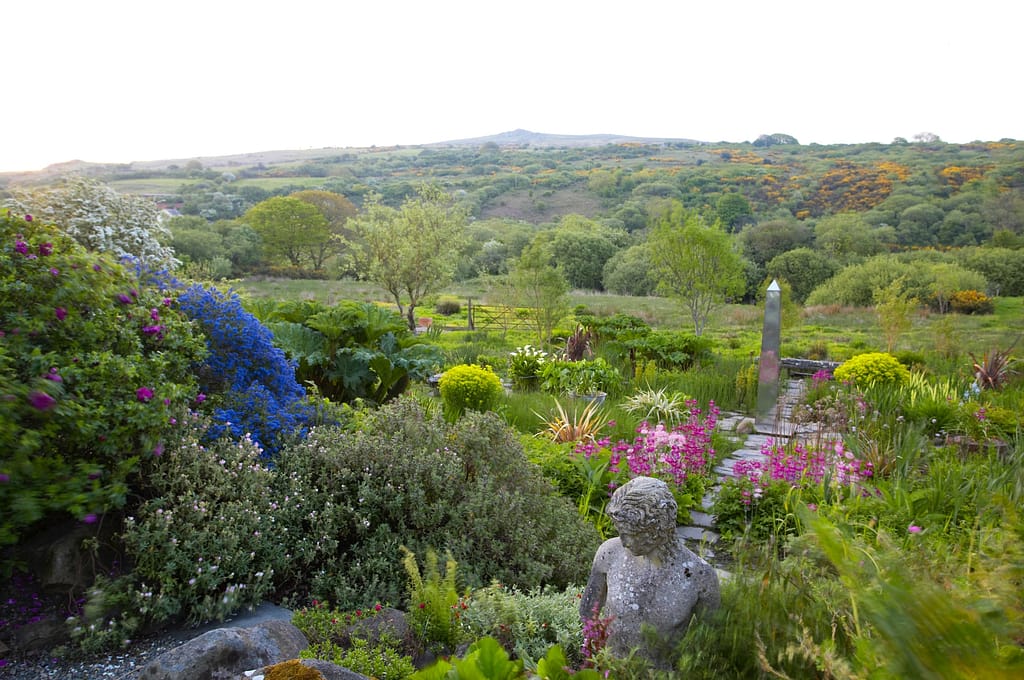 Gardeners World, May 2014
Learning from the experience
"If you're having trouble growing plants in a boggy spot, Christina Shand's advice will help"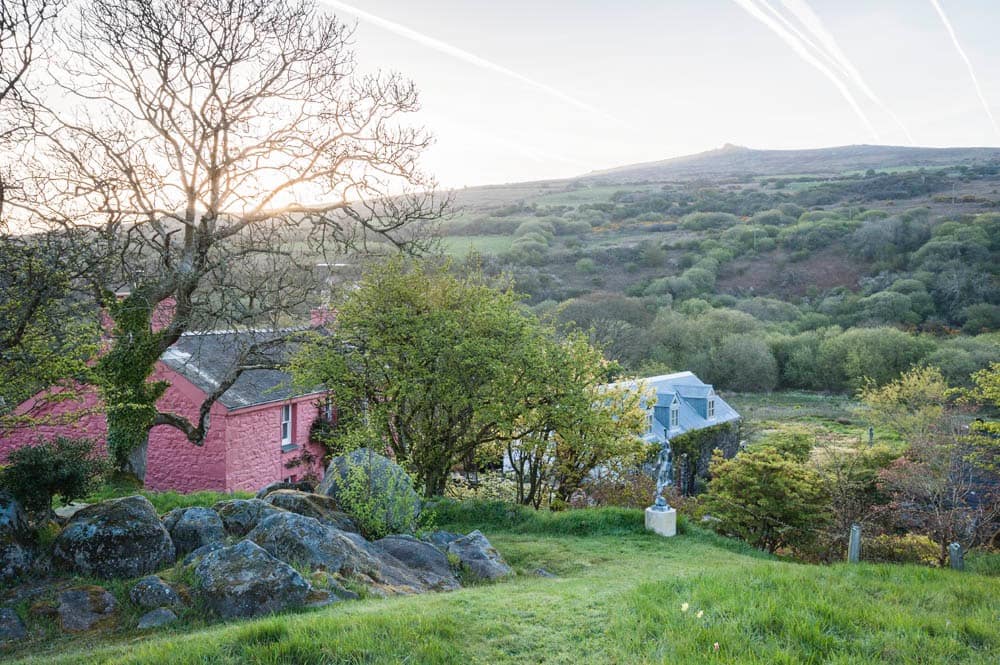 Daily Mail Weekend, April 2014
Western Mail, April 2014
"The wide variety of environments and the abundance of seating invite you to take your time and to investigate this place from different angles and perspectives, to bring your own beliefs, thoughts and feelings to your experience of the garden."
Garden visitor 2013
"This is a garden of Puck and Ariel and sometimes Caliban!" 
(The garden) "was a highlight of my trip, from walking in and my first sight being a snow gum, and followed by such a feast of plants. So unexpected it's been on my mind ever since" Nicholas Crook, Land of Plenty, NSW Australia, 2012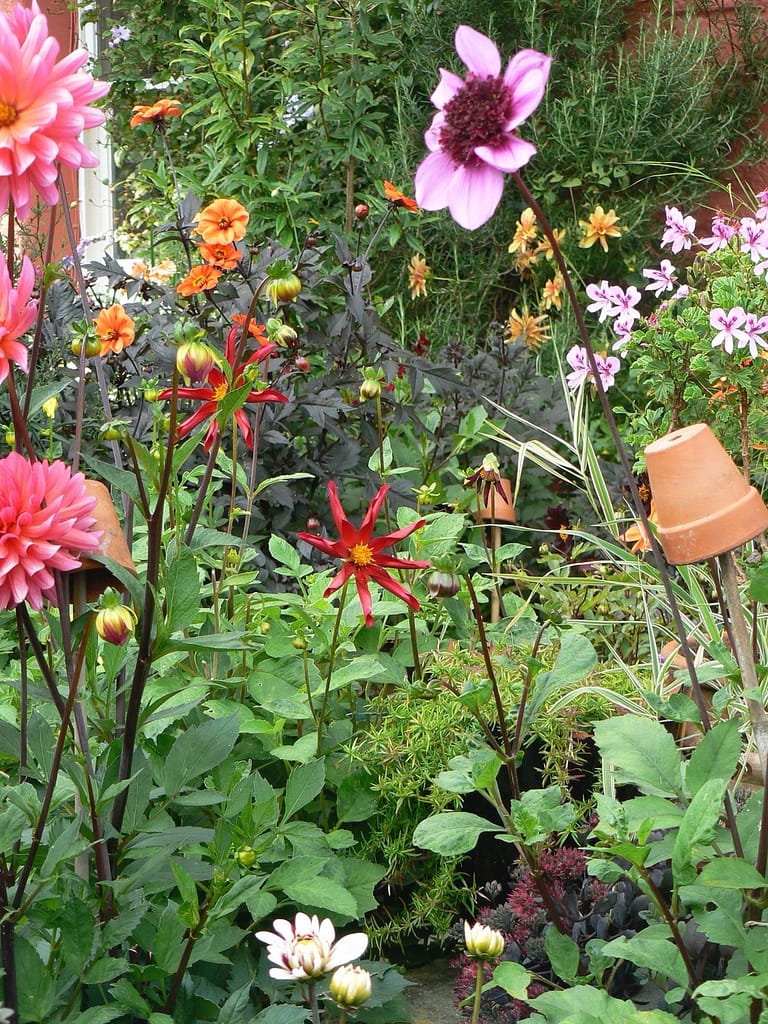 Noel Kingsbury 'Cultivating a Sense of Place' in The Garden, October 2012
"you can be surrounded with the exotic colours and lush foliage or warmer climes, but with a  sense of place you will never forget."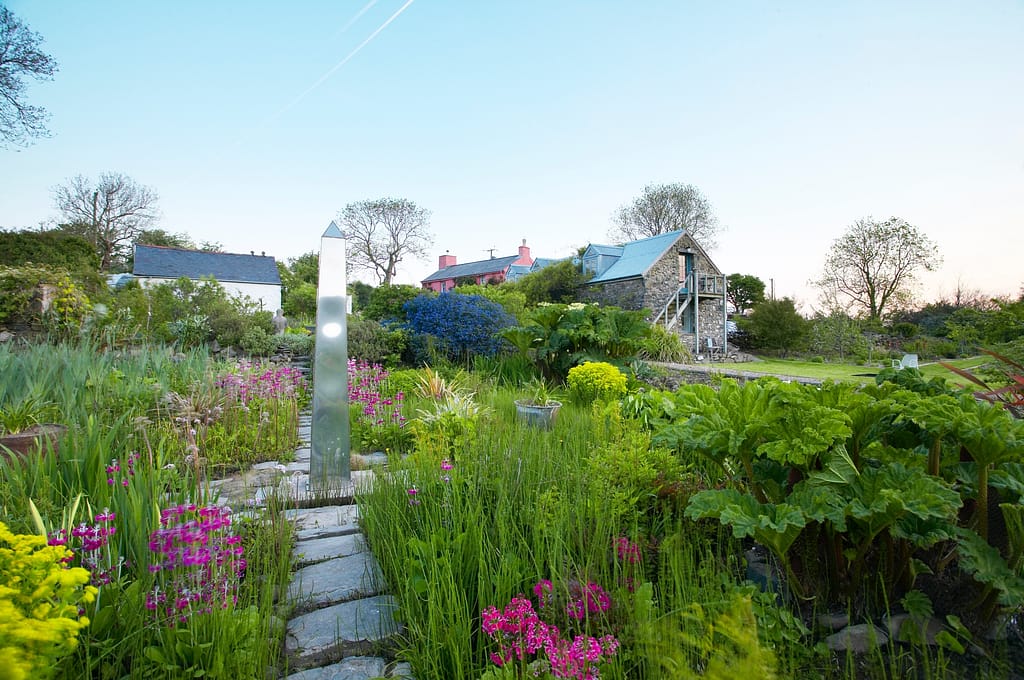 Cover feature The English Garden, 2nd. article Clare Takacs photographs, written by Stephanie Mahon. May 2011 
"The amazing colourful bog garden at Dyffryn Fernant just the start of the gems to be discovered here."
"After visiting all the 'big' gardens in Southern Wales the two that I keep thinking about were the two that were not designed by a 'garden designer' but by gardeners who work the soil every day themselves – The Veddw and Dyffryn Fernant. These are gardens that demand to be looked at from a variety of different viewpoints (and probably benefit from viewing at different seasons although I am unable to do that)." 
Dr. Larry Handelsman. Ann Arbor, Mi., USA 2011
"a heart-lifting surprise, a caché of gorgeous, sophisticated gardening at the end of a rough country lane" Dyffryn Fernant Garden near Fishguard Pembrokeshire West Wales. Stephen Anderton in "Discovering Welsh Gardens" twenty of the liveliest gardens selected and explored by Stephen Anderton and photographed by Charles Hawes. Published by Graffeg 2009
Televised on 'Escape to the Country' BBC1 2009 and constantly repeated!
A starred garden in The Good Gardens Guide
"The just-tamed meets the decidedly wild, with even a touch of the tropics, in Christina Shand's Welsh garden" Country Homes and Interiors Magazine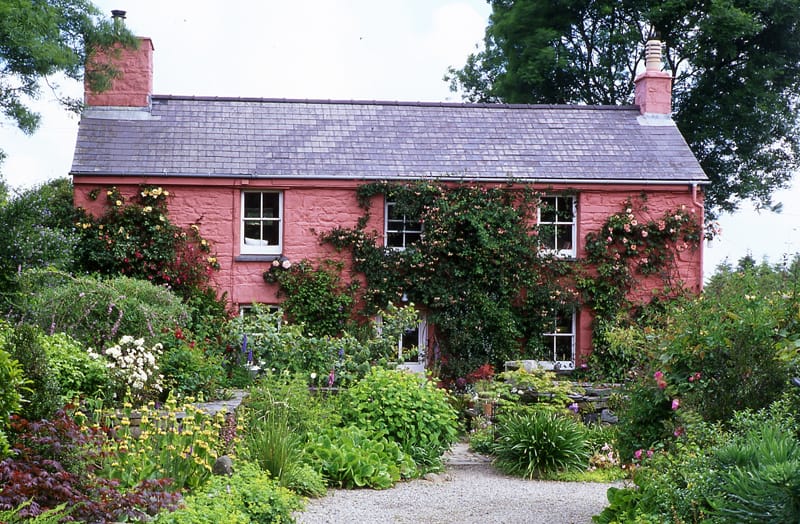 Stephen Lacey writes about Dyffryn Fernant in 'Beautiful Britain' 2008
"The realm of an adventurous and creative spirit"
"This is a garden of many parts, interesting at all seasons it all adds up to something really quite special" 
Good Gardens Guide 2008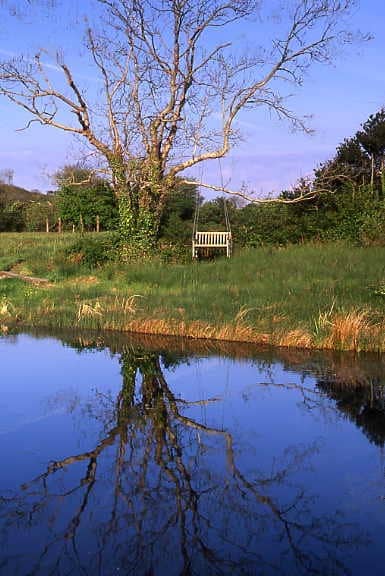 Design Guide in The English Garden Magazine February 2007
Design Guide A welsh hillside garden
"The aim is to keep a large area of water unplanted to give reflections of the trees and sky." Jackie Bennett Photos Charles Hawes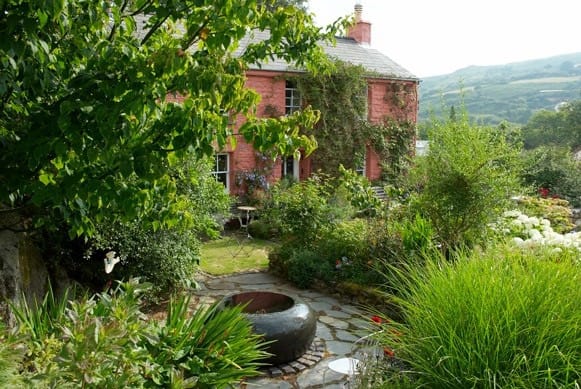 View looking down on water feature and front garden. Dinas mountains in background
Country Homes & Interiors June 2007
"seamlessly Natural The just-tamed meets the decidedly wild with even a touch of the tropics in this Welsh valley garden"
"Runner up Clwb Garddio Garden of the Year competition" S4C TV 2006
Gardens Monthly Great days out August 2005
"full of surprises for artists and plants-people"
On 27th April 2014, Christina was invited to talk about Dyffryn Fernant live on the Jamie Owen show on BBC Radio Wales.
Featured on BBC Gardeners' World in March 2014 as part of Joe Swift's mini-series Gardening Against the Odds.
'This border is gorgeous, I love it. It's exotic, it's tropical… I like the way it's taken on a life of it's own. It's absolutely fantastic, it's so dramatic…' Joe Swift
Televised as an 'inspirational garden' on Channel 4's Landscape Man with Matthew Wilson, 2011. Quote from the programme: 'I am truly inspired by this place, to see what intelligent and interesting things you can do with plants, how plants can transform a space, is really exciting. Also the way they have planned the routes and the vistas and created a narrative around this space – wonderful'
Visit the Garden
12 - 5 Sunday to Friday
April to October
Closed on Saturdays
Visitor Information
The Library is open to visitors
Tea, coffee & hot chocolate available
Visitor toilets
FREE parking
Picnics welcome
Lots of seats around the garden
Well-behaved dogs on short leads are welcome in the garden
Tickets
Adults £7
Children (under 16) FREE
Season Ticket for One Adult £20
Season Ticket for Two Adults £35
Help us Grow
Help us to grow Dyffryn Fernant by making a donation.